The New York Jets backfield underwent a rapid overhaul in the opening salvos of free agency. With Chris Ivory signed to Jacksonville, the Jets quickly sought to remodel the position by spreading the funds available. In addition to bringing in Matt Forte and re-signing Bilal Powell, Khiry Robinson was also signed from the New Orleans Saints, following a 2015 season which was ended early by injury. Robinson was signed to the Jets on a one year $1.175 million contract effectively as the third string back. Let's take a closer look at the latest addition to the Jets' offense…
Robinson was signed by the Saints as an UDFA in 2013 out of West Texas A&M University. Following his rookie season where his contributions increased gradually, praise came from high places. According to FOX analyst John Lynch, Bill Parcells had called Sean Payton to bemoan his limited use of Robinson ahead of the Saints' playoff game against Seattle, comparing him to former Jets back Curtis Martin, who he had introduced into the Hall of Fame the previous year:
Per Lynch, Payton said: "Parcells called this week and said, 'Sean what are you doing? You've got Curtis Martin right in front of your eyes, and you're not doing anything with him. Give him the ball.'"
By the end of New Orleans' 2013 playoff run Payton was describing Robinson as the team's "most talented runner of the football" after he played a decisive role in putting the team in position to score the game winning field goal against the Eagles.
As he entered 2014 he continued to show the same promise as a player who could extend drives and push the team down the field. Robinson is not the kind of back who will rack up 1,000+ yards per year (362 is his highest), but forced more missed tackles on 76 regular-season attempts in 2014 than Ray Rice did on 730 according to Pro Football Focus' metrics. His game tape showed exceptional balance, above-average power, great vision and a decisive burst. He also demonstrated an uncanny ability to stay on his feet, consistently regaining his footing for extra yards following lower leg tackles. Speaking to the media at the AFC Coach's Breakfast this week in Boca Raton, Todd Bowles identified this as a key reason for bringing Robinson into the fold. Asked why he liked Robinson he stated:
"His toughness. The way he runs the ball. How hard he runs the ball and his toughness. That brought us an element we didn't have with the other guys."
Now comes the reality check. Lets not get carried away, especially with the comparison to the Jets' greatest runner of the ball. Partly due to the Saints' system of rotating backs, Robinson didn't have the big impact predicted and by 2015 was mainly used on third downs. Then came a gruesome open lower leg fracture last November which side-lined him for the rest of the year and ultimately spelled the end of his time with the Saints. Predicting how a running back will come back from such an injury is impossible but Todd Bowles attributed this as the reason the Jets were able to sign Robinson as well as Forte. They obviously feel confident that he will add value.
With Matt Forte as the workhorse for early downs and a passing down specialist in Bilal Powell, in Robinson the Jets have paid little for a player with a large potential upside who brings an key skill set. Any player returning from injury has a huge question mark on their head but if Robinson can continue to demonstrate the ability to make tacklers miss which he showed in New Orleans, he will certainly add value to Chan Gailey's offense, especially in tight third down spots. It could go either way but with limited cost, this could turn out to be a savvy move.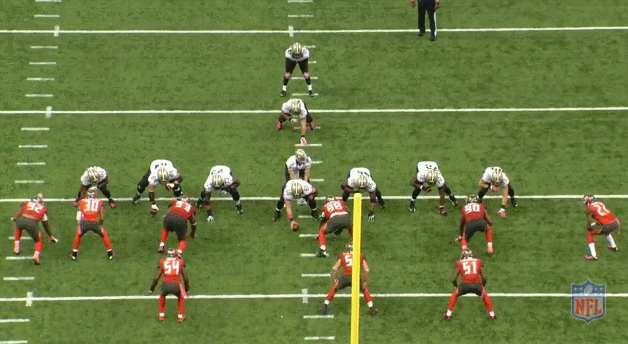 –
Photo Credit: NewOrleansSaints.com