Welcome to our weekly New York Jets passing game film breakdown, an article that could have been classified as a horror film review at times in recent years. However, for at least this week things are looking a little brighter in game 1 AM (After Mornhinweg). Let's review how the Jets managed 31 points against one of the more talented defenses in football. Please feel free to leave any questions down below or send them over on Twitter. On to the #TAPE…
The Game Plan: Was not surprising if you have been paying attention to the Jets player usage throughout the summer and reading between the lines on what the coaching staff has been saying. This is not a "spread the wealth" offense. This is a "we are funneling the ball to our best players relentlessly" offense. Chan Gailey is keeping it simple: Chris Ivory is very good and is running behind a physical offensive line in the running game, so feed him early and often. Brandon Marshall and to a lesser extent Eric Decker are very good, move them around, pepper them with targets and create mismatches. Three wide receivers are on the field for the base set and the Jets want a speed receiver on the outside, hence the opportunities for Chris Owusu and eventually Devin Smith. Bilal Powell is the change of pace back. After that, there isn't much left for anybody else.
The Quarterback:
Ryan Fitzpatrick or JR Fitz as he is known around these parts had a very Fitz like debut, finishing 15/24 for 179 yards with 2 TDs and a INT. We'll put his performance above the "SANCHIZE LINE," meaning he played at a level good enough for the Jets to be a competitive team, which is a positive. (SANCHIZE LINE = 2010/Most of 2011 Mark Sanchez, when he was competent enough for the Jets to regularly win, not in spite of him). Credit to
@JJoyJets
for the photoshop work below.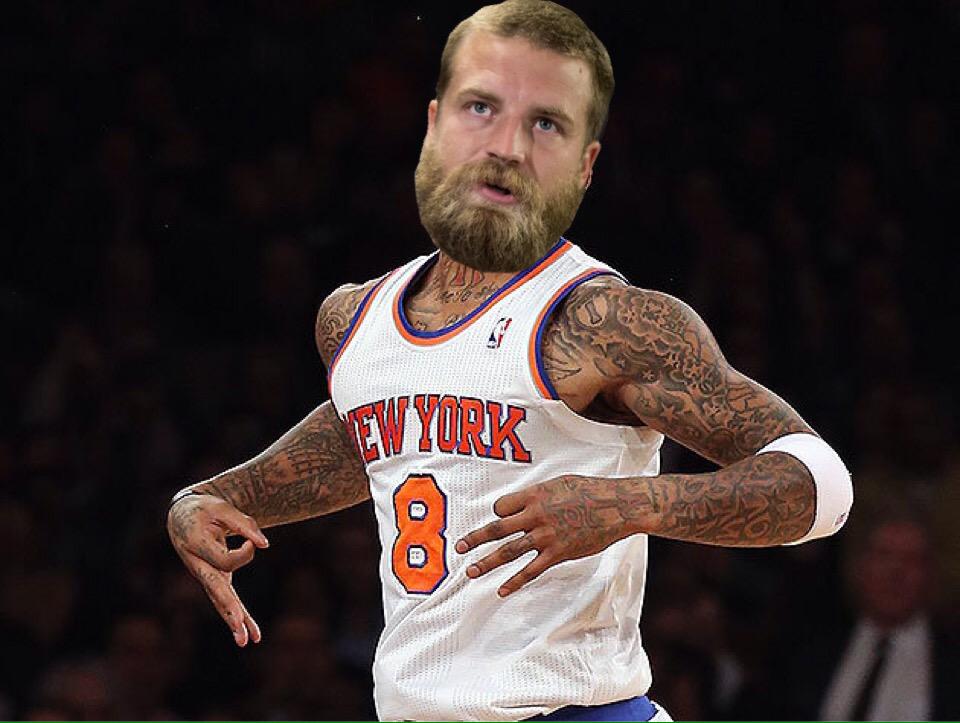 Fitzpatrick, ever the streak shooter, struggled prior to the team's two minute drill to end the first half. On his interception, he decided before the snap he was throwing to Brandon Marshall on his deep corner route, regardless of the coverage. He ignores Tashaun Gipson dropping in his zone and throws it right to him.
Later in the quarter, he has Eric Decker for a home run shot on a deep post but throws him a bit too far outside and long. Fitzpatrick then also tries to blindly to throw to Kellen Davis of all people on a quick turn route, instead of letting the play develop when he may have had Brandon Marshall on a deep corner route.
To his credit, Fitzpatrick then turned it around, finishing the first half strongly with a crisply executed two minute drive that culminated with his best throw of the day, a 15 yard touchdown strike to Eric Decker on a post route from the slot. From the two minute drill on, Fitzpatrick finished 11/15 with 2 touchdowns and no turnovers after starting 4/9 with a INT and a botched snap. He also did show an ability to effectively push the ball down the field by hitting Chris Owusu for a 43 yard gain, also on a skinny post. This was only one play after missing Decker deep, so it was an encouraging bounce back throw.
The Wide Receivers: Brandon Marshall stole the show pacing the Jets with 9 targets, 6 receptions and 62 yards. Here is the breakdown of his alignment and routes on those 9 targeted passes:
Left Slot – Incomplete on deep corner route
Right split end – Incomplete on deep comeback route (throwaway due to pressure)
Left split end – Intercepted on deep post corner route
Right split end – 11 yard completion on deep comeback route (same call as second target)
Left split end – 9 yard completion on back shoulder release
Right split end – 6 yard completion on hitch route
Right split end – 17 yard completion on deep comeback route (same call as target 2 and 4)
Right split end – 1 yard touchdown completion on fade route
Right split end – 18 yard completion on intermediate speed out
The Jets had their most success isolating Marshall on the right side of the formation, hitting him 3 times for 46 yards on the look below, twice on a deep comeback and once on a speed out. They were all very basic calls, meant to allow Marshall to operate in single coverage in the intermediate passing game where he was able to use his physicality and body positioning.
This type of play action comeback route will be nearly impossible for any corner to defend when paired with an effective running game. Marshall also still has an ability to effectively "play basketball" with any defender who attempts to cover him as shown in the second GIF on a well placed back shoulder throw by Fitzpatrick.
Eric Decker only saw 3 targets but made the most of them, finishing with 37 yards and a touchdown. You saw the 15 yard TD from the slot post above along with Fitzpatrick missing him on a deep post from the outside, he also caught a 22 yard dig route, when he initially was lined up in the slot but had the outside receiver motion inside of him. The Jets moved Decker all over the formation, putting a particularly big chunk of his reps in the slot.
Chris Owusu received a surprising 6 targets and responded with 4 catches for 55 yards. Outside of his deep post (already shown above), Owusu caught a short in-cut from the split end position, a hitch route (shown below) and was used as the H-Back on a boot route which he caught for a one yard loss. Fitzpatrick also threw a pass away when targeting him on a vertical route from split end and misfired to him on a back shoulder route, also from split end, where he spent most of the game playing.
Quincy Enunwa played an un-targeted 27 snaps, lining up primarily in the slot or as the H-Back. For now, the Jets seem more interested in utilizing him as a blocker than a receiver. He is still a work in progress as seen below when he is steamrolled in the first GIF but shows some potential with a functional cut block in the second GIF. It will be interesting to see if the Jets work to get him more involved in the passing game next week or continue to use him in pass pro so much.
Jeremy Kerley played one offensive snap. The reason the Jets are not using Kerley as much is this: when the Jets are designing a play with the slot receiver as the primary target, they want that target to be Brandon Marshall or Eric Decker. When Marshall or Decker are moved inside, they want a speed receiver outside the numbers to stretch the defense and help open things up for them, which fits Chris Owusu or Devin Smith's skill set better. Quincy Enunwa is playing H-Back, which Kerley can't play because of his size. Basically, he does not fit into what they want to do on offense right now. It could change in certain game plans but for now I wouldn't expect much action from him.
The Tight Ends: Jeff Cumberland (28 snaps) and Kellen Davis (19 snaps) received 1 target between them (Fitzpatrick's near INT shown above). Cumberland actually had a better than average game blocking, included a key lead block that helped spring Chris Ivory's first touchdown. The Jets didn't ask for much from either in the passing game, which should remain a common theme going forward.