We are over one week into free agency. The New York Jets have taken an approach so far that should not be overly surprising. However, there has been a relatively harsh reaction from some segments of the fan-base and certain predictable media outlets. What should we make of John Idzik and the 2014 offseason thus far?
Let's start by quickly recapping what has occurred. The Jets allowed Austin Howard to walk in free agency and replaced him with Breno Giacomini. On the field, they are comparable players. For the Jets, an edge would go to Howard since continuity is always preferred, particularly on the offensive line. Yet, the Jets did get Giacomini at roughly half the price. This was a somewhat surprising and disappointing move but the on-field difference at the right tackle position is not likely to be very noticeable. If Giacomini matches Howard's level of play from 2013 and the Jets are getting him for the half the money, who is going to complain?
The biggest splash was made at wide receiver. Coming into the offseason, the Jets had the NFL's worst wide receiver group. They successfully added arguably the best overall free agent at the position and certainly the most accomplished at a very fair rate.
Eric Decker immediately substantially upgrades a major weakness and provides a necessary tool for second year quarterback Geno Smith
. Another reason he was targeted? Check out these charts: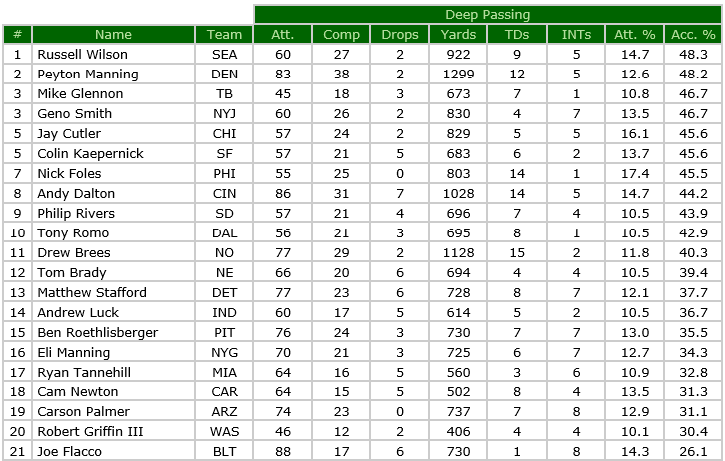 Idzik has also retained a handful of the Jets own free agents. He got Jeff Cumberland back on a low cost deal. He is an average player at best but at a minimum provides competent depth and should be more productive with better receivers on the outside of him. It was a pleasant surprise that he brought defensive lineman Legar Douzable back on a one year deal, who became a key part of the defensive line rotation by season's end. Nick Folk and Calvin Pace were both expected to return and they have on new contracts that are fair market value to their production in 2013.
In the coming days, the Jets are expected to make a push to bring Willie Colon back and will have Mike Vick in for a visit. They are also being linked to potential rumors for a DeSean Jackson trade and considered a favorite to sign Antonio Cromartie, which was a move many expected before the offseason started.
The expectation of a highly aggressive approach was misplaced. You didn't have to dig deep to find that the Jets plan under Idzik is to primarily build through the NFL Draft and use free agency only as a supplement to their picks. Last offseason, the decision to let many middling free agents walk off the roster (LaRon Landry, Shonn Greene, and Dustin Keller for example) has likely equated to 3-4 compensatory selections this April. The unworkable situation with Darrelle Revis added an additional fourth round pick. Idzik isn't John Schneider but it is fair to assume he learned under him to build primarily through the NFL Draft and a handful of trades. Go look at the Seahawks current roster and see how many current starters and prominent players were free agent signings.
Much of the frustration is stemming from unsourced reports that the Jets were going to be super aggressive in free agency. The reality of many of these reports is that they are based on assumptions, not any concrete information. Since taking over, the Jets have locked down information about their plans. The only information that gets out is from player's agents, so when a certain writer says eleven times throughout the offseason the Jets are interested in Emmanuel Sanders, it is from Sanders' agent, not from the team.
Look at this way. A beat writer who had the ability to break stories under Mike Tannenabum has since been locked out under the new regime. It is a frustrating reality and it now requires offseason transaction articles to be based on educated guesses and agent leaks. Our website deals with this also, as you can see by the roughly 50% accuracy of our predictions a few weeks back before the league year started.
The problem is when a mainstream media outlet continuously beats the drum that the Jets are going to be super aggressive  and keeps throwing out players that there was never that high level of an interest in. It creates expectations that shouldn't be there. The Jets have very publicly said they would be "judicious" in free agency. In eight days, they have signed two outside free agents and brought back four of their own players while losing one starter. It sounds judicious to me.
Is frustration understandable? Sure. The Jets still have plenty of money burning a hole in their pocket and many needs on both sides of the football. However, the offseason doesn't have a magical cut off date 8 days after the league year starts. The roster is going to be tweaked all the way up to and through week one, via signings, waiver claims, draft picks and trades. If you think the roster in the middle of March is going to resemble the roster in September, you are probably mistaken. Every draft pick the Jets have is an asset that can be used to select a player, as a component of a trade or as motivation to avoid overpaying certain players.
At this time last year, the following key contributors to the 2013 roster were not yet on the team: Dawan Landry, Sheldon Richardson, Geno Smith, Dee Milliner, David Nelson, Chris Ivory, Antwan Barnes (while healthy), Brian Winters, Leger Douzable, Mike Goodson (showed flashes before getting hurt and expected to be contributor in 2014). The cap situation is different this year but the point is the Jets will continue to tweak their roster in the coming months. It is simply way…way too early to grade Idzik's performance this offseason.
One final thing about cap space. Remember the Jets will have contracts to hand out to Muhammad WIlkerson, Jeremy Kerley and Damon Harrison next offseason. The year after they will need to likely pay Quinton Coples and Antonio Allen if they keep developing, along with Chris Ivory if they want to stay with him at running back. Finally, the year after they could be gearing up to pay big contracts to Sheldon Richardson, Dee Milliner and Geno Smith. You want to keep that amazing defensive line together for the next 5-7 years? You better have some cap flexibility.
There are still moves to be made Jets fans. Let's give this front office a little time to full work an entire offseason plan…not just eight days.